The Goats
Our herd of goats is growing by leaps and bounds. Literally. There are almost always new faces coming along. Some of them are part of our family and will live with us forever, but we occasionally do offer young goats as family pets. Rooney is the friendliest of the gang, always greeting newcomers with a nudge and a nuzzle.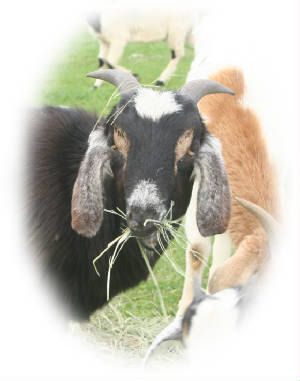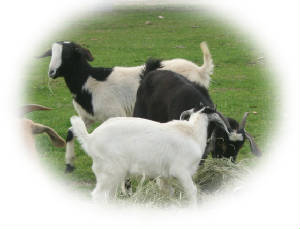 The Rabbits
Our rabbits provide food for the earthworms that turn our garbage and waste into compost. Not only do they have a "job" but they're family pets, each of them with unique personalities. Charlie is always happy to share nuzzles for banana chips!

Charlie
The Birds
Sometimes it seems as if life around here is for the birds. We're certainly surrounded by birdsong, both from wild birds that come to feed in our garden and from our personal flock of pet birds. Our greenhouse doubles as an aviary, so don't be surprised if a lovebird, cannary or finch offers their advice as you walk among our plants.
Oscar

Having gone through five homes in his four short years of life, including spending his entire baby-hood in a far-too-small cage with little human interaction, it is amazing that Oscar isn't a "killer bird." Instead, he came into our home and immediately adopted us, heralding us with whistles and chatter, and occasionally allowing us to hold him and pet him. He's a real character and has definitely enriched our life!

Bonnie, Clyde and Sam

Talk about your characters! When these three are flying loose, it keeps us all in stitches. None of the three are hand-tamed, but are tame enough to interact with us. Sam is named for Yosemite Sam...he's the rootenest, tootenest little love bird you ever met! (Sometimes on his bad days, we say he's a "hatebird" instead of a "lovebird."
Cedarbrook Farm * 1731 Old 227 * Langston * AL * 35755